"The Heart of Communication: How to really connect with an audience" Part 2
Tuesday Teaching Tip 225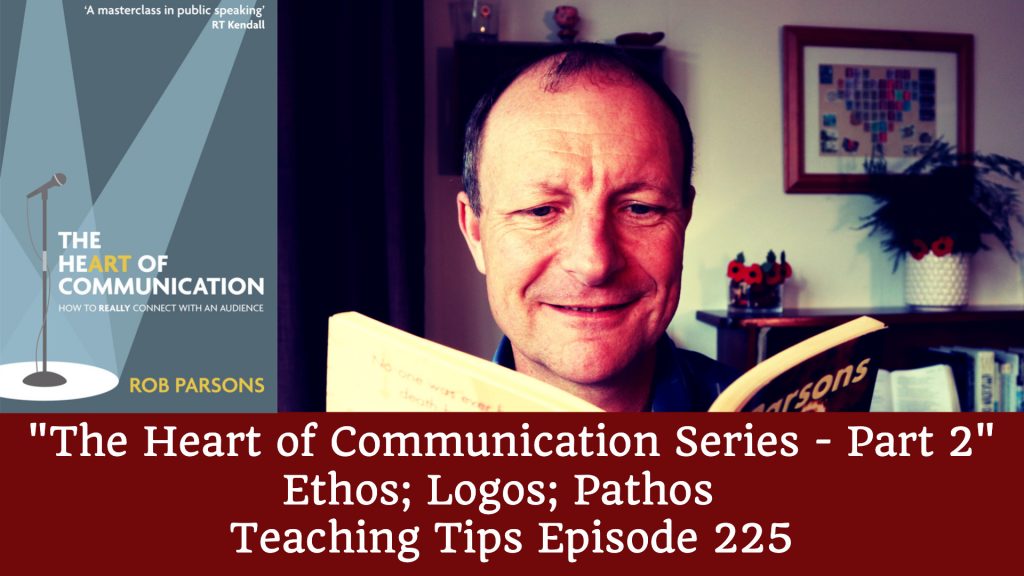 Tuesday Teaching Tip 225
---
Introduction
"There are three things to aim at in public speaking: first, to get into your subject, then to get your subject into yourself, and lastly, to get your subject into the heart of your audience." Alexander Gregg
This is the second in a series based on the book "The heart of communication: How to really connect with an audience" by Rob Parsons.
In my "What we're reading" series I reviewed the full book (look for episode 49). In this series of "Tuesday Teaching Tips" we're taking a bite-size look at each of his chapters to see what might be relevant for us.
This week we talk about three aspects of speaking which Aristotle called: ethos, logos and pathos.
---
1. Ethos
"Ethos is a Greek word meaning 'character'. In the context of public speaking it answers the question, 'Is this person worth listening to?' or 'What right do they have to give this talk?'"
We speakers should never take it for granted that our audience wants to listen to us, or believe in us. Considering this is not a matter of dealing with our insecurity, but a matter of helping our audience to absorb what we are saying.
Take the apostle Paul as an example. When speaking to fellow Jews in Jerusalem he said this:
"I am a Jew, born in Tarsus of Cilicia, but brought up in this city. I studied under Gamaliel and was thoroughly trained in the law of our ancestors. I was just as zealous for God as any of you are today." (Acts 22:3 NIV11)
You may want to have different introductions ready for different contexts. For people who know you well it may not be important at all, but if ever you're in a situation where the majority do not know you, do you want to have something to say which give people a reason to lend you their ears for a little while.
Perhaps the only significant caveat is to make sure we don't go over the top. And don't exaggerate. If you do, you'll be found out. Someone will google you and check!
Can be a little embarrassing if you've been introduced with less than accurate information. Once I was speaking abroad and the person introducing me accorded me all kinds of accolades and degrees I did not have. If somebody else is introducing you, make sure they've got the correct information.
---
2. Logos
Logos is about an appeal to logic or reason utilised in such a way as to make a compelling argument.
It means constructing a persuasive argument, organising your various points in a sequence with each point building on the previous one, and might involve giving facts, citing authorities on a subject, using historical and literal analogies, explaining a text or some statistics.
Some of us may respond better to arguments from authority and emotion, rather than logic. However, it's important as a speaker to recognise that not of our all of our audience will learn in the same way as ourselves. If you are not a particularly "logical" person, it is important nonetheless to present at least some of your points with a logical framework. You will serve your audience well in that way.
Jesus was a great 'explainer' when the situation called for it. For example, those lucky couple on the road to Emmaus:
"And beginning with Moses and all the Prophets, he explained to them what was said in all the Scriptures concerning himself." (Luke 24:27 NIV11)
Being able to explain implies following a logical train of thought.
Considering how logical our arguments are is also a defence against purely subjective interpretations of scripture.
---
3. Pathos
It is from pathos that we get our words 'sympathy' and 'empathy'. Pathos is essentially an appeal to the heart – to the emotions.
Isn't it dangerous to appeal to the emotions? Might people make a response based on feelings rather than facts? That is possible, although if you've done your proper work with your argument, that shouldn't be too much of an issue. However, there are times to appeal to emotion.
When Jesus warned people, it doesn't sound to me as if there was no emotion involved:
"And do not think you can say to yourselves, 'We have Abraham as our father.' I tell you that out of these stones God can raise up children for Abraham." (Matthew 3:9 NIV11)
Key tools in utilising pathos are illustrations, stories and the use of pauses (momentary silence). If these tools don't come naturally to you, practice them and you will improve.
---
Conclusion
The point of thinking through our utilisation of ethos, logos and pathos is to create the best conditions possible for us to connect with our audience. A lack of connection almost always means we and our audience depart disappointed, uninspired and less edified.
I sincerely hope as you reflect on these points above you may find at least one tip to help your connection improve.
Questions: "Which of the three – ethos, logos, pathos – is your weak point? What can you do to improve it in your next talk?"
---
Please add your comments on this week's topic. We learn best when we learn in community.
Do you have a question about teaching the Bible? Is it theological, technical, practical? Send me your questions or suggestions. Here's the email: malcolm@malcolmcox.org.
If you'd like a copy of my free eBook on spiritual disciplines, "How God grows His people", sign up at my website: http://www.malcolmcox.org.
Please pass the link on, subscribe, leave a review.
"Worship the LORD with gladness; come before him with joyful songs." (Psalms 100:2 NIV11)
God bless, Malcolm
PS: You might also be interested in my book: "An elephant's swimming pool", a devotional look at the Gospel of John