Newsletter 16 January 2021: Episode 78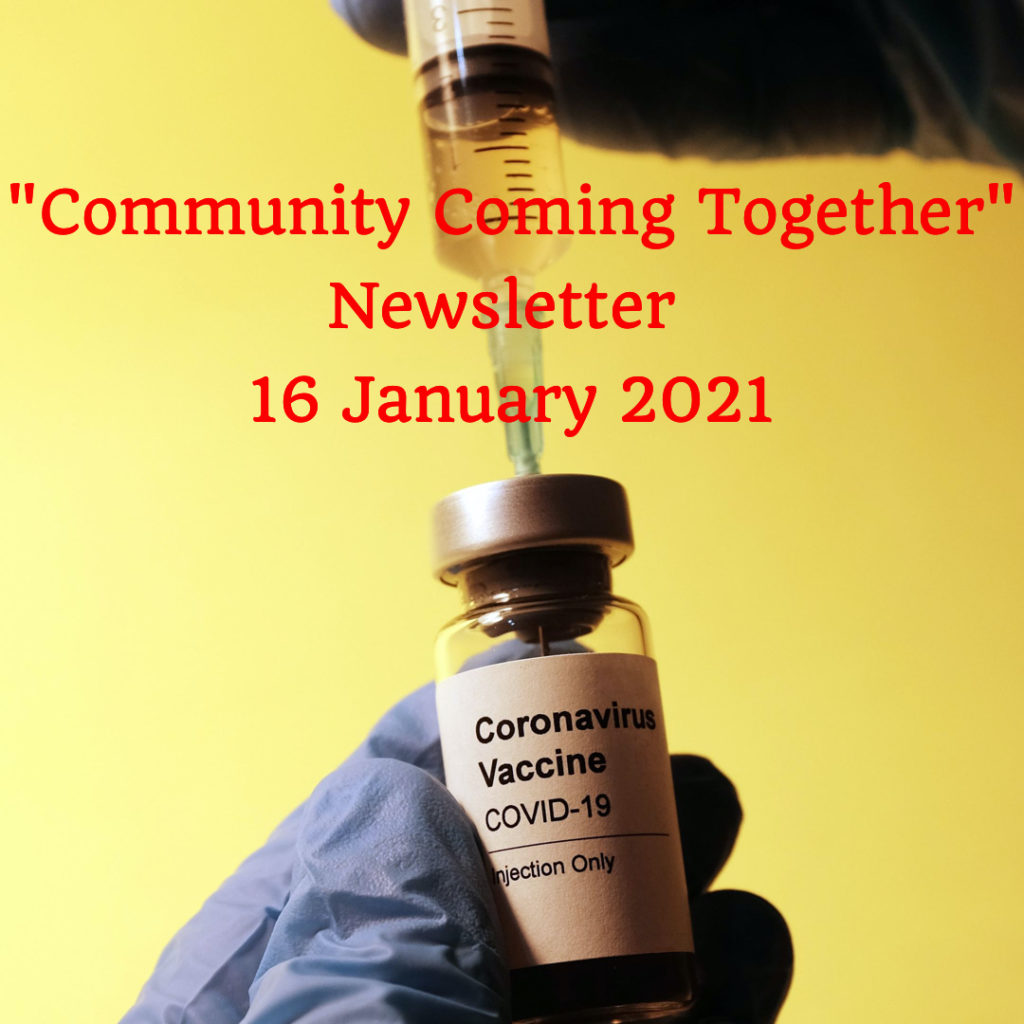 "Community Coming Together"
Despite the many challenges, beauty is on display in these troubled times. One such visible manifestation of beauty is the way in which groups have come together to help one another.

As most of you know, my wife is a GP. She and her colleagues have been vaccinating people as fast as possible. This last Wednesday six doctors vaccinated all day. They helped around 1000 people. But it wasn't simply the doctors. 

Some of the administrative staff came in on their day off (as did my wife). In addition, unpaid volunteers made all the difference. Most of those volunteers were outside in the cold and rain marshalling people, helping with parking, assisting the infirm, answering questions and more. They were out there for hours at a time, not complaining, remaining cheerful, sensing they were doing something of great significance for the community and for each individual who came their way.

Not only are we designed to be in community, but we are enriched when we willingly participate in community. This is true in general in our society, but especially so in our local congregational context. My point here is more a question. What are you doing in your local church community to ensure that the sense of community is maintained, or perhaps, even deepened?

When Paul writes to the Corinthians he reminds them,
"Now there are varieties of gifts, but the same Spirit. And there are varieties of ministries, and the same Lord. There are varieties of effects, but the same God who works all things in all persons. But to each one is given the manifestation of the Spirit for the common good."

(1 Corinthians 12:4–7 NAS95)
Everyone of us has gifts which can be used to the "common good". What are yours? How are you using them? I'd be interested to find out. Please drop me a line if you have a moment.
---
In other news….
I enjoyed leading the City Bible discussion this week. Thanks very much for the invitation everyone. It was good to catch up with some old friends, and see some people who normally wouldn't be able to make it, but because of the online nature of things these days, were able to be there. Let's make the most of all the resources available to us. Who could you catch up with or what could you watch and listen to that might otherwise normally not be possible?


One of the children in the Watford church drew this poignant picture during our service last Sunday. Scarlett has quite a talent for reflective thinking and putting it on paper.

The Earth is pictured wearing a mask and crying over the events of last year. The moon can be seen to be similarly sad, reflecting the Earth's mood. Is there a way for you to express your feelings about what's going on? Could you write a poem, a song, draw a picture? There is something about making our experience tangible in an art form which helps us to process what's going on in our world and in our heart.

The next teaching class for the Thames Valley church in the "Adventures in faith with Abraham" series features the link between Ian Dowie, the Crystal Palace football club and Abraham. Intrigued? Look for the link below to the third class in the series. 


I hope you find this week's resources helpful.

God bless, Malcolm
---
The week ahead
If you'd like to pray for me I'd be very grateful. Here are some of my plans:
The next Tuesday teaching tip class in the series, "The heart of communication"
The next "What we are reading episode" – a section from a book about character and virtue
The next few daily quiet time coaching episodes on Abraham
The Sunday sermon for the Watford church in the new Abraham series: "Adventures in faith with Abraham". This week – Genesis 15. It's pretty weird, to be frank.
The next gathering of the Apollos group on Saturday.
---
Until the next time,
God bless, Malcolm