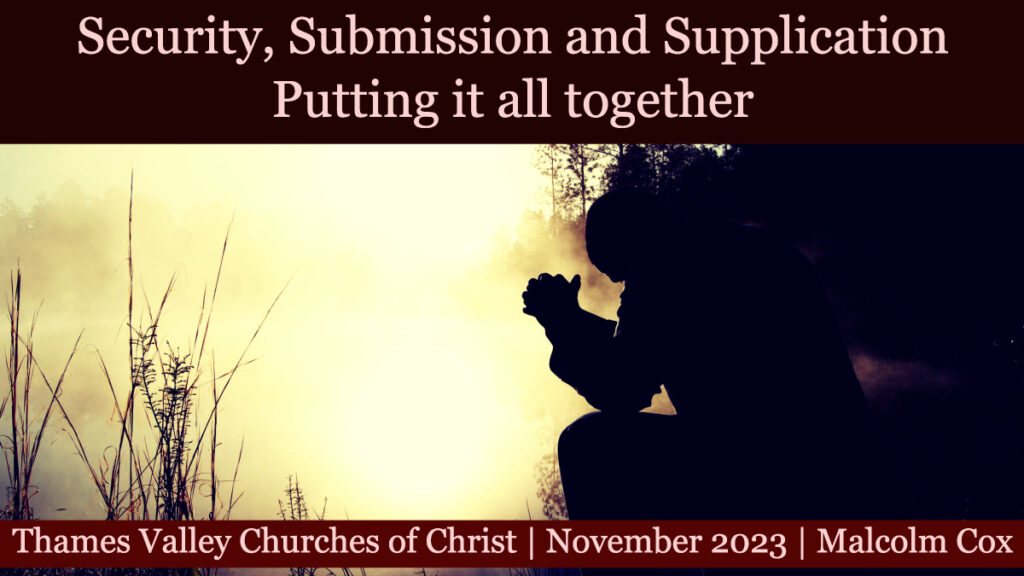 The 3-step prayer framework series | Class 4 – Putting it all together
In this short series we have been exploring how security in the Father enables our willing submission to him and the difference that makes to our prayers. In the first episode we talked about the way in which we hear our Father's voice. We considered the example of Jesus, and took inspiration from his ability to hear his Father's voice in passages like: "This is my Son, whom I love; with him I am well pleased." (Matthew 3:17 NIV11)
In the second episode we tackled the topic of submission. Although submission is challenging to practice, it is so much easier when we are convinced of our heavenly Father's unconditional love for us. Jesus was the ultimate super-submissive son, setting us an example by wrestling in Gethsemane and going to the cross — not because he felt like it, but because it was the will of his Father. Jesus humbly surrendered to the Father's plan, saying, "not as I will, but as you will." His submission demonstrated the depth of His trust in God's wisdom and divine purpose.
In the third episode we examined the purpose and meaning of supplication. When we are confident in God's love and committed to submission to his will, we find our prayers transformed.
In this final episode we put it all together and reflect on what God has been teaching us.
Point of clarification
As I did in the first episode, I should mention that this framework is not meant to be a formula. Nor do I consider it superior to any other framework. It is simply one of many.
Security; Submission; Supplication
I used this framework every day for several months. It does not cover the totality of my prayers, but I have used it to a greater or lesser extent every day. I have also enjoyed set prayers from a prayer book connected to Lindisfarne, a Church of England prayer app, and other extemporaneous times of praying. However, I have discovered that using the same framework day after day has deepened my understanding of the connection between security, submission and supplication. Additionally, focusing on these three areas has reminded me of examples in Scripture of people enjoying security with God, the struggle to be submissive to the will of God, and the discipline to make requests by faith.
The surprise
Meditating in prayer on my security with God has led me into some times of wonderful praise. How can I ever thank God enough or praise him adequately for adopting me as his child despite my rebellion and weakness? Asking my heavenly father to help me want to be submissive has created a greater awareness of the struggle to be submissive throughout the day. It's on my mind more. Now and again, I ask myself, "Am I being submissive to God's will?" Sometimes the answer is not clear, but the question is still a healthy one. Bringing more requests to God has connected me more strongly to those I pray for and revealed to me ways in which I could be part of the answer to the prayers I am offering to God.
Conclusion
Awareness of God's love for us is not something we should stress over. Father-God, Jesus and the Holy Spirit of with us at all times, but not necessarily noticed. That is not a sign of spiritual inadequacy. I am not always aware of my wife's love while I am sitting at my laptop doing work, but her love for me comes back into focus at times. I live within the security of my wife's love even though I am not thinking about it all the time. Similarly for us as Christians. Therefore, the question is not so much whether we are aware of Jesus at any particular moment, but whether we live generally within a sense of the security of his love for us, and whether we turn to him as a matter of habit when something comes up which is either worthy of praise or of prayer because it is difficult
Have you tried this framework? Have you persevered with it? What have you discovered?
Questions for reflection
Why are security, submission and supplication a route to praise?
What is the main lesson God has taught you in exploring this prayer framework?
What will you explore further?
Next month we will have two classes on reviewing the year and preparing for next year.
Please add your comments on this week's topic. We learn best when we learn in community.
Do you have a question about teaching the Bible? Is it theological, technical, practical? Send me your questions or suggestions. Here's the email: malcolm@malcolmcox.org.
If you'd like a copy of my free eBook on spiritual disciplines, "How God grows His people", sign up at my website: http://www.malcolmcox.org.
Please pass the link on, subscribe, leave a review.
God bless, Malcolm