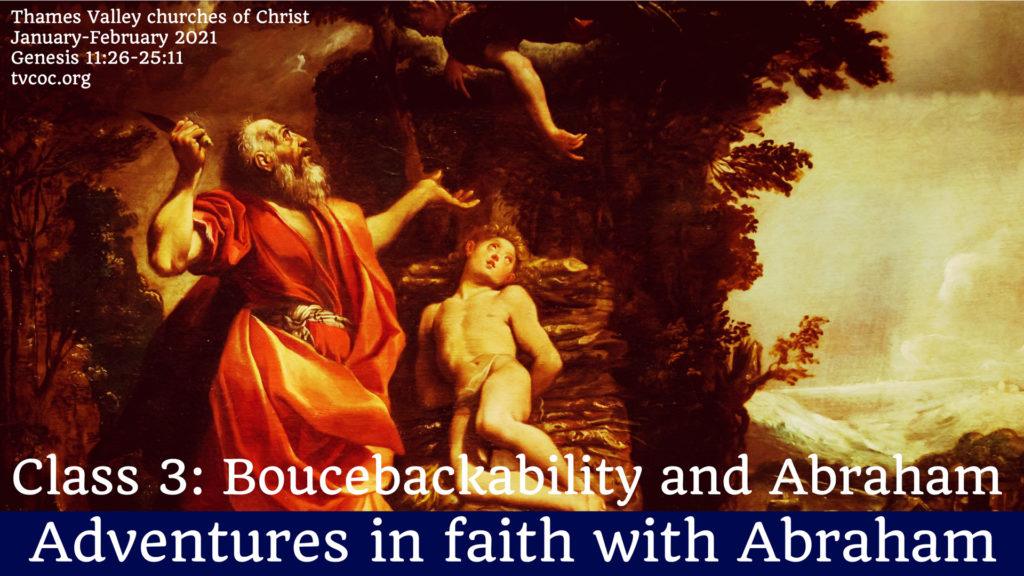 Introduction
Abraham had 'bouncebackability'
It is how Abram got from Gen 12 to Heb 11.

"By faith Abraham, when he was called, obeyed by going out to a place which he was to receive for an inheritance; and he went out, not knowing where he was going. By faith he lived as an alien in the land of promise, as in a foreign land, dwelling in tents with Isaac and Jacob, fellow heirs of the same promise; for he was looking for the city which has foundations, whose architect and builder is God. By faith even Sarah herself received ability to conceive, even beyond the proper time of life, since she considered Him faithful who had promised. Therefore there was born even of one man, and him as good as dead at that, as many descendants AS THE STARS OF HEAVEN IN NUMBER, AND INNUMERABLE AS THE SAND WHICH IS BY THE SEASHORE…. By faith Abraham, when he was tested, offered up Isaac, and he who had received the promises was offering up his only begotten son; it was he to whom it was said, "IN ISAAC YOUR DESCENDANTS SHALL BE CALLED." He considered that God is able to raise people even from the dead, from which he also received him back as a type." (Hebrews 11:8–19 NAS95)
An adventure not possible without setbacks
How we respond to setbacks says a lot about the health of our faith
Setbacks also provide opportunities for God to grow our faith
Through these we understand better who we are and who he is
Abraham's Highs and Lows
Mistake 1
Gen 12 – calling / betrayal
God does not tell him to go to Egypt
Fear clouds his judgment
Self-preservation is his goal
Bounce 1
As a result he goes back to worship (Gen 13:1-4)
Handles Lot (Gen 13:5-13) and King of Sodom well (Gen 14:21-24)

Surrenders control
Embraces the courage to act and save Lot
Mistake 2
Gen 16 – Hagar

Takes matters in own hands
Impatience
Shows weakness akin to Genesis 3 – gives in to pressure from family
Causes problems we still dealing with
Bounce 2
Gen 16:16-17:1, 24, 18:10
Patience in faith
Obedient to call to higher commitment (circumcision)
Timing of promise now specific, v21
InterludeNot all challenges are our sins, but also disappointments regarding hopes and unanswered prayers
Gen 18-19 – 'failure' to rescue Sodom

Despite the most amazing QT imaginable!
How did he feel, Gen 19:27-28?
Relationship with God special, therefore Lot rescued, Gen 19:29
Mistake 3
Gen 20 – Abimelech (esp as a repeat of a previous mistake)

Giving in to fear
Forgets God's promise of Gen 12:2-3 re blessing and cursing others
Bounce 3
Abe prays – goes to God for help with the consequences of his own sin, Gen 20:17-18
Gen 21 – Isaac – God holding on to Abraham
Conclusion
Gen 22 – the high point comes when he is ready

Abraham's greatest test is passed with flying colours

Illustrative of Israel's history

But they did not 'die' in shalom, but exile
Lost sight of their specialness as people of God
Lost sight of the responsibility which came from that
"Abraham breathed his last and died in a ripe old age, an old man and satisfied with life; and he was gathered to his people" (Genesis 25:8 NAS95)
How can we die with shalom?
Not by being mistake-free!
What do you want to bounce back from?
Lockdown

Overeating
Overdrinking
Overspending
Overindulging in Netflicks
No time for God in prayer
Excessive anger at spouse, children

Shalom by deciding again and again to return to God
Shalom by repenting
How we can develop bouncebackable faith and die in the shalom of God?
Go back to old places, Gen 13
Create opportunity for God to speak and heal
Meditate on promises: make a list
We have the Spirit – the Spirit of Abraham and the Spirit of bouncebackability
Please add your comments on this week's topic. We learn best when we learn in community.
Do you have a question about teaching the Bible? Is it theological, technical, practical? Send me your questions or suggestions. Here's the email: [malcolm@malcolmcox.org](mailto:malcolm@malcolmcox.org).
If you'd like a copy of my free eBook on spiritual disciplines, "How God grows His people", sign up at my website: http://[www.malcolmcox.org](http://www.malcolmcox.org/).
Please pass the link on, subscribe, leave a review.
"Worship the LORD with gladness; come before him with joyful songs." (Psalms 100:2 NIV11)
God bless, Malcolm