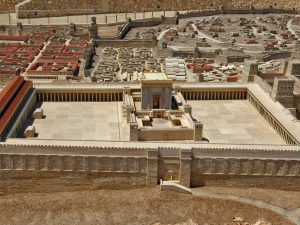 "Lift up your hands in the sanctuary and praise the LORD. May the LORD, the Maker of heaven and earth, bless you from Zion." (
Psalms 134:2
–3 NIV)
Praise
Here we are at the end of the Psalms of Ascent. This pilgrimage is over – perhaps a new one is about to begin.  Our worshippers are in, or imagining themselves being in the sanctuary.
"Sanctuary" means the place of 'holiness'.  It could mean that they desire to worship in a holy way, or that they wish to worship in a holy place. Could it mean both? The place could be the whole temple area, the courts or the building reserved for the priests. For a Christian all places are 'holy' for worship and praise.
Praise is also a command.  Praise is the goal of the trip, not the arrival, or the distraction of being a 'tourist' in Jerusalem. It is as if they are saying to themselves, "Now you are here, bless God". Our praise is not dependent on our feelings.  Praise helps us get our feelings back in the right place  so that our emotions are our servants, not our masters, subjugated to God like all things we own. As Peterson says in, 'A long obedience in the same direction', "..your feelings might be flat, but you can control your muscles: lift up your hands."  There is great joy in heaven – there can be on earth too!
"I tell you that in the same way there will be more rejoicing in heaven over one sinner who repents than over ninety-nine righteous persons who do not need to repent." (Luke 15:7)
Bless
'Bless' appears in every verse of the Psalm – it is the key word. Earlier in the Psalm it is man blessing God, and now the roles are reversed. The difference is that man can only give God what he already has, while God's blessing gives man what he does not have, and makes him what he is not.  When God blesses us he takes into account all our needs and sets out to meet them. When we bless God we take into account his divine qualities and worship him.
The reason we praise/bless God is because he is worthy of our praise and stoops to bless us.  He is the one who has taken the initiative to introduce Himself to us.  We are blessed, so we bless.  We give back that which we have received.
God is blessing us from Zion – in other words not a far off undiscoverable place,
"Now what I am commanding you today is not too difficult for you or beyond your reach. It is not up in heaven, so that you have to ask, "Who will ascend into heaven to get it and proclaim it to us so we may obey it?" Nor is it beyond the sea, so that you have to ask, "Who will cross the sea to get it and proclaim it to us so we may obey it?" No, the word is very near you; it is in your mouth and in your heart so you may obey it." (Deuteronomy 30:11–14)
The true Mount Zion is Jesus and he is in the midst of us for evermore,
"You have come to God, the judge of all men, to the spirits of righteous men made perfect, to Jesus the mediator of a new covenant, and to the sprinkled blood that speaks a better word than the blood of Abel." (Hebrews 12:23–24 NIV)
No wonder we praise and bless God – He is our joy.