Quiet Time Coaching: Episode 107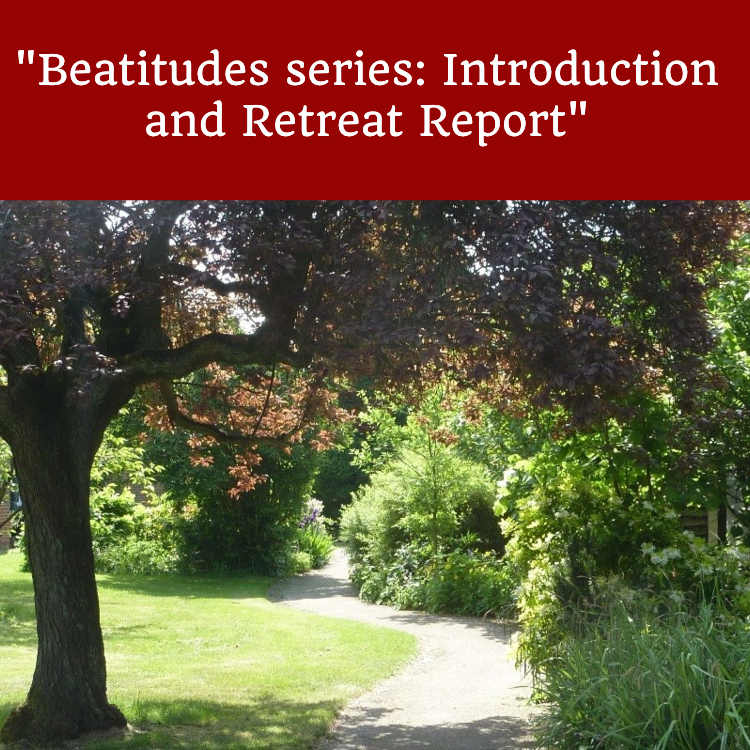 I'm diving deep into Matthew 5-7.  It's all in preparation for a teaching and preaching series for the Thames Valley churches of Christ, and a teaching day for the Watford Church of Christ based on the sermon on the mount.
Today I want to bring you an overview of the Beatitudes based on chapter 8 of the book "Unloading the Overload: Stress management for Christians" by Chris Powell and Graham Barker.
The podcast contains the full commentary on my thoughts of their approach to the Beatitudes. For these show notes, I'll content myself with inserting the text of Matthew 5:3-12, and a few choice quotes from the book.
""Blessed are the poor in spirit, for theirs is the kingdom of heaven. Blessed are those who mourn, for they will be comforted. Blessed are the meek, for they will inherit the earth. Blessed are those who hunger and thirst for righteousness, for they will be filled. Blessed are the merciful, for they will be shown mercy. Blessed are the pure in heart, for they will see God. Blessed are the peacemakers, for they will be called children of God. Blessed are those who are persecuted because of righteousness, for theirs is the kingdom of heaven. "Blessed are you when people insult you, persecute you and falsely say all kinds of evil against you because of me. Rejoice and be glad, because great is your reward in heaven, for in the same way they persecuted the prophets who were before you."

(Matthew 5:3–12 NIV11)
These beatitudes are effectively priorities for a follower of Jesus. Three stand out:
Our relationship with the Creator-father.
Our relationship with other people.
Our relationship with our own self and our circumstances.
Quotes from the book
Blessed (makarios) "carries a sense of unassailable wholeness."
"Meekness is a kind of compound quality which includes moderation, self-control and self-awareness."
"We need to offload the pressures we put on ourselves by simplifying our lives and wholeheartedly pursuing the just, the good and the healthy."
"We will not have makarios if we simply use people and love things, rather than use things and love people."
"If we live expecting to receive from others, we will always be disappointed, but if instead we live giving to others a "womb experience" of deep emotional connectedness, we cannot be disappointed even if they do not respond."
"Peacemakers seek resolutions, not the attribution of blame."
"Jesus did not advocate social rebellion. He began an inner revolution that promotes a love of others and a gentleness of spirit, while giving all the glory to the father."
Let me know what stands out to you from these thoughts today. How might digging into the Beatitudes help you unload the overload?
In the weeks ahead I shall be posting more about each of the Beatitudes as I wrestle with them both in understanding, but also with application in my own life.

Retreat Report
I have found a terrific place for a group retreat.  Last Friday I went to have a look at St Michael's convent in Gerrards Cross.  It's secluded, quiet and has a pervading sense of peace.
A pencil booking has been made for the final weekend of March 2020. That's the 27th-29th March.
Schedule: Friday night to Sunday lunchtime.
Maximum capacity is 17 people, which, if we took all those places, would mean we were the only guests at the convent.  
Accommodation: Bedrooms (3 Double, 2 Twin and 8 Single) are simply and comfortably furnished. Each room has a hand basin and three/four bedrooms have ensuite WC/shower rooms. Additional showers are mostly shared between just two guests. A bath is available on the second floor for those who prefer.
The extensive gardens would give people opportunities for a stroll, prayer walk or simply to sit and read or meditate on God's word. The house is very quiet, and includes a beautiful intimate chapel which we would be able to use as well as a meeting room. 
The location is easily accessible by many routes. Not far off the M25 and M40 and only a few miles from the M4. By Train: Marylebone to Gerrards Cross about 20 minutes. Also good service from Aylesbury, Oxford, Stratford upon Avon, Birmingham and Kidderminster via Chiltern Railways. Walking distance from the Gerrards Cross train station is about 10-15 minutes.
The cost is £120 per person which includes full board for 48 hours, use of the meeting room and other facilities. The chef can make allowances for a wide variety of dietary needs. 
Next steps:  receive feedback and comments from you, my lovely audience, then make adjustments and set up a registration page.
Watch this space.
---
Please add your comments on this week's topic. We learn best when we learn in community. 
Do you have a question about teaching the Bible? Is it theological, technical, practical? Send me your questions or suggestions. Here's the email: malcolm@malcolmcox.org.
If you'd like a copy of my free eBook on spiritual disciplines, "How God grows His people", sign up at my website: http://www.malcolmcox.org.
Please pass the link on, subscribe, leave a review.
God bless, Malcolm
PS: You might also be interested in my book: "An elephant's swimming pool", a devotional look at the Gospel of John