Quiet Time Coaching Episode 264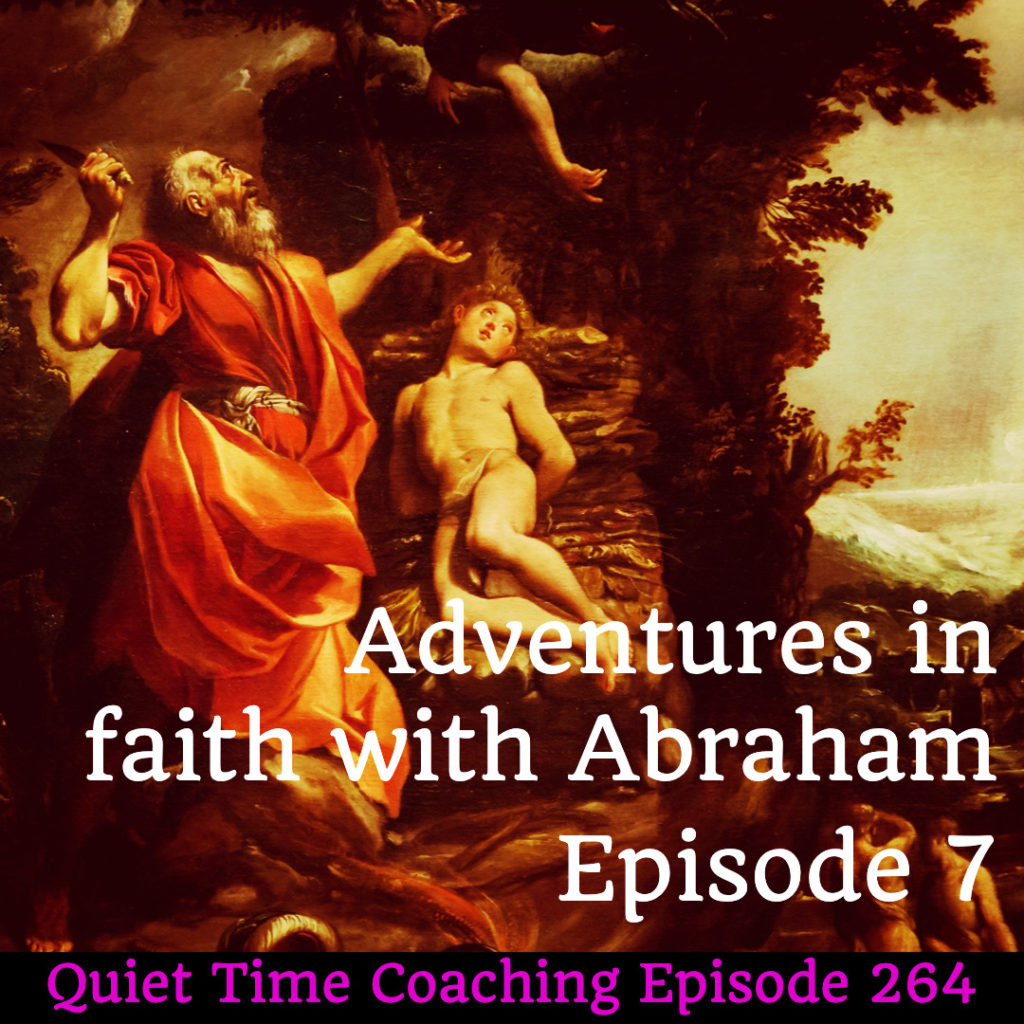 Would you like to learn more about faith? You've come to the right person. No, not me, Abraham. This is a daily devotional podcast supporting a teaching series for the Watford church of Christ and the Thames Valley churches of Christ called "Adventures in faith with Abraham". It is also part of my quiet time coaching series.
What is it about Abraham which is so admirable? Many things. But perhaps above all else his adventurous faith, "By faith Abraham, when called to go to a place he would later receive as his inheritance, obeyed and went, even though he did not know where he was going." (Hebrews 11:8 NIV11)
Join me as we step out on a faith adventure with Abraham.
---
Episode 7
---
Today we continue in chapter 12
"Now there was a famine in the land; so Abram went down to Egypt to sojourn there, for the famine was severe in the land. It came about when he came near to Egypt, that he said to Sarai his wife, "See now, I know that you are a beautiful woman; and when the Egyptians see you, they will say, 'This is his wife'; and they will kill me, but they will let you live. "Please say that you are my sister so that it may go well with me because of you, and that I may live on account of you." It came about when Abram came into Egypt, the Egyptians saw that the woman was very beautiful. Pharaoh's officials saw her and praised her to Pharaoh; and the woman was taken into Pharaoh's house. Therefore he treated Abram well for her sake; and gave him sheep and oxen and donkeys and male and female servants and female donkeys and camels." (Genesis 12:10–16 NAS95)
What are we seeing here? After our brief introduction to the promises, and the unhesitating faithful obedience of Abram, we find him facing his first challenge.
The problem is real. Outside of an invading army, famine was the greatest danger of the ancient world. The prospect of starvation was real and terrifying. The situation affected Abram, but also Sarai, Lot and all the others with him.
How will he react?
We might be surprised that he wishes to pass off his wife as his sister. Certainly, we will see that God does not approve. However, we need to pause long enough to recognise Abraham as a fellow-human. He is doing what we all do. One unavoidable problem is being compounded by adding an imagined problem.
He is correct in judging that without food he and his family will die. He is incorrect in assuming that the Egyptians will kill him. He cannot know this for a fact. His fears are clouding his judgement. We can note that there is no mention of God in this paragraph.
---
Devotional thought for today
What is causing the greatest fear in your heart at the moment? There's no point denying that we all have fears. However, we can respond to them in a healthy and faithful way.
"Humble yourselves, therefore, under God's mighty hand, that he may lift you up in due time. Cast all your anxiety on him because he cares for you." (1 Peter 5:6–7 NIV11)
Lay out your anxieties before God today. Take them out of the shadows, and place them in God's light. Let him give you peace, and refuse the temptation to attempt to control events. Remember that he cares for you and your well-being. God knows that, together with his Spirit, you have enough strength for the challenges ahead.
---
Prayer point for today
Ask God to help you respond to fear with faith.
---
If you have any questions or feedback please contact me: malcolm@malcolmcox.org.
The apostle Paul said of Abraham, "He is the father of us all." (Romans 4:16 NIV11) Let's allow him to be the father of Faith to you and me in January and February 2021.
Many thanks for listening today. See you tomorrow as we continue our adventure of faith with Abraham.
Take care and God bless, Malcolm