Quiet Time Coaching Episode 263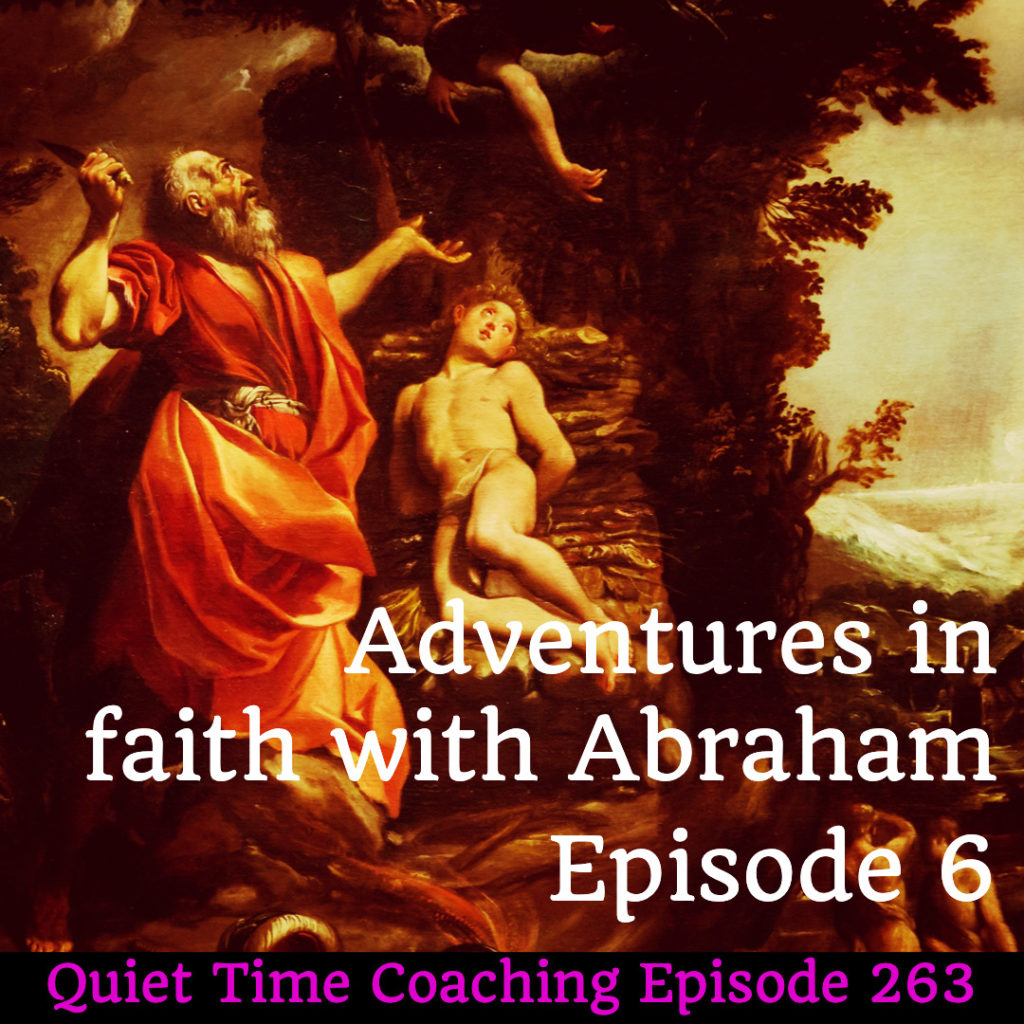 Adventures in Faith with Abraham – Episode 6. Quiet Time Coaching Episode 263
Would you like to learn more about faith? You've come to the right person. No, not me, Abraham. This is a daily devotional podcast supporting a teaching series for the Watford church of Christ and the Thames Valley churches of Christ called "Adventures in faith with Abraham". It is also part of my quiet time coaching series.
What is it about Abraham which is so admirable? Many things. But perhaps above all else his adventurous faith, "By faith Abraham, when called to go to a place he would later receive as his inheritance, obeyed and went, even though he did not know where he was going." (Hebrews 11:8 NIV11)
Join me as we step out on a faith adventure with Abraham.
---
Episode 6
---
Today we continue in chapter 12
"So Abram went forth as the LORD had spoken to him; and Lot went with him. Now Abram was seventy-five years old when he departed from Haran. Abram took Sarai his wife and Lot his nephew, and all their possessions which they had accumulated, and the persons which they had acquired in Haran, and they set out for the land of Canaan; thus they came to the land of Canaan. Abram passed through the land as far as the site of Shechem, to the oak of Moreh. Now the Canaanite was then in the land. The LORD appeared to Abram and said, "To your descendants I will give this land." So he built an altar there to the LORD who had appeared to him. Then he proceeded from there to the mountain on the east of Bethel, and pitched his tent, with Bethel on the west and Ai on the east; and there he built an altar to the LORD and called upon the name of the LORD. Abram journeyed on, continuing toward the Negev." (Genesis 12:4–9 NAS95)
What are we seeing here? A faith-fuelled obedience. One conversation with God was enough for Abram to set out on a very long journey. We are given very little detail, which must be deliberate. It emphasises the simplicity of Abram's faith and the willingness of his obedience. All of this demonstrates the depth of his trust of God.
Abram's instinct is to worship. He desires to honour his God. As he journeys he leaves behind a trail of altars. Symbolically at least it is evidence of his belief that God will, one day, give him this land. In one sense it already belongs to Abram because it clearly belongs to God. This is the place where he appears to his people.
---
Devotional thought for today
What prompts your worship? What gets you thanking and praising your heavenly father? One of my favourites is this:
"But you are a chosen people, a royal priesthood, a holy nation, God's special possession, that you may declare the praises of him who called you out of darkness into his wonderful light. Once you were not a people, but now you are the people of God; once you had not received mercy, but now you have received mercy." (1 Peter 2:9–10 NIV11)
Why not try praying through this passage and letting God know how grateful you are that he has called you, just like he called Abram. Calling you to be blessed, in order to be a blessing to others.
---
Prayer point for today
Ask God to help you worship him with reverence and awe
---
If you have any questions or feedback please contact me: malcolm@malcolmcox.org.
The apostle Paul said of Abraham, "He is the father of us all." (Romans 4:16 NIV11) Let's allow him to be the father of Faith to you and me in January and February 2021.
Many thanks for listening today. See you tomorrow as we continue our adventure of faith with Abraham.
Take care and God bless, Malcolm