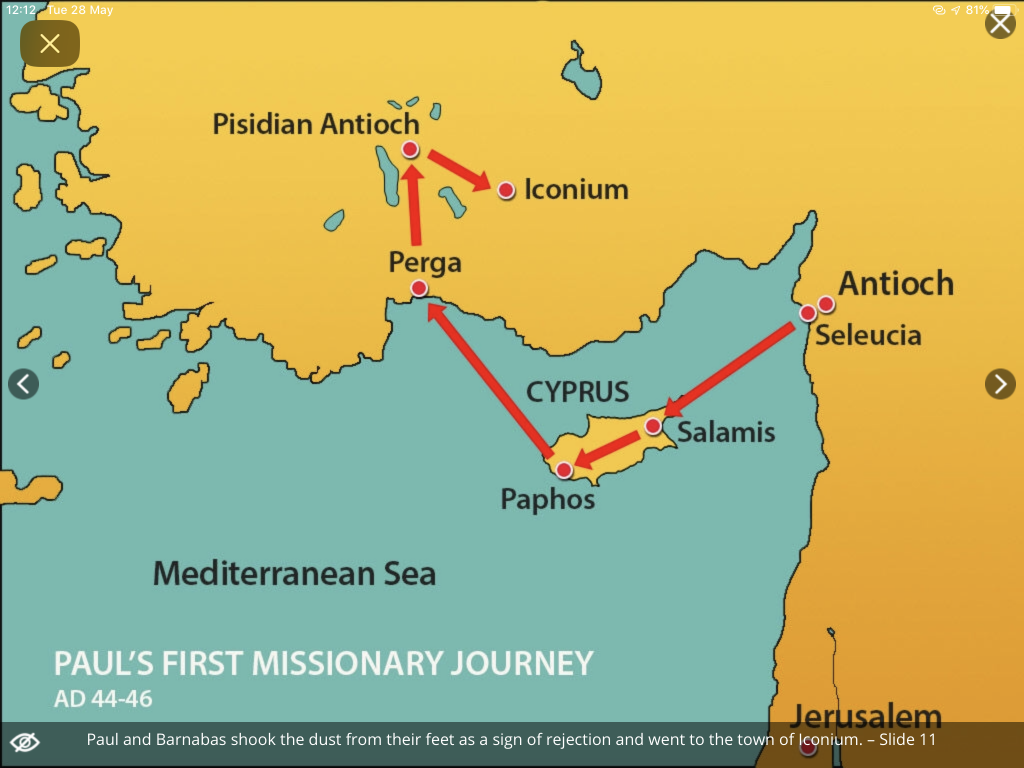 This coming Sunday's text for the Watford church of Christ. What questions do you have about it?
"But after the disciples had gathered around him, he got up and went back into the city. The next day he and Barnabas left for Derbe.
They preached the gospel in that city and won a large number of disciples. Then they returned to Lystra, Iconium and Antioch, strengthening the disciples and encouraging them to remain true to the faith. "We must go through many hardships to enter the kingdom of God," they said. Paul and Barnabas appointed elders for them in each church and, with prayer and fasting, committed them to the Lord, in whom they had put their trust. After going through Pisidia, they came into Pamphylia, and when they had preached the word in Perga, they went down to Attalia.
From Attalia they sailed back to Antioch, where they had been committed to the grace of God for the work they had now completed. On arriving there, they gathered the church together and reported all that God had done through them and how he had opened a door of faith to the Gentiles. And they stayed there a long time with the disciples." (Acts 14:20–28 NIV11)
Please add your comments on this week's topic. We learn best when we learn in community. 
Do you have a question about teaching the Bible? Is it theological, technical, practical? Send me your questions or suggestions. Here's the email: malcolm@malcolmcox.org.
If you'd like a copy of my free eBook on spiritual disciplines, "How God grows His people", sign up at my website: http://www.malcolmcox.org.
Please pass the link on, subscribe, leave a review.
"Worship the LORD with gladness; come before him with joyful songs." (Psalms 100:2 NIV11)
God bless, Malcolm
PS: You might also be interested in my book: "An elephant's swimming pool", a devotional look at the Gospel of John