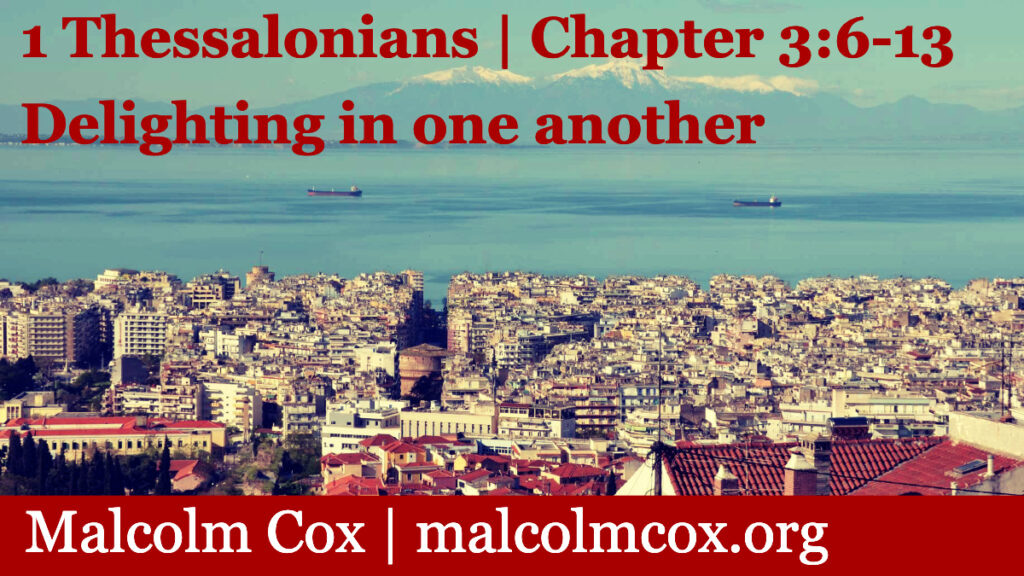 A teaching class for the Watford and Thames Valley churches of Christ.
"But Timothy has just now come to us from you and has brought good news about your faith and love. He has told us that you always have pleasant memories of us and that you long to see us, just as we also long to see you. Therefore, brothers and sisters, in all our distress and persecution we were encouraged about you because of your faith. For now we really live, since you are standing firm in the Lord. How can we thank God enough for you in return for all the joy we have in the presence of our God because of you? Night and day we pray most earnestly that we may see you again and supply what is lacking in your faith.
Now may our God and Father himself and our Lord Jesus clear the way for us to come to you. May the Lord make your love increase and overflow for each other and for everyone else, just as ours does for you. May he strengthen your hearts so that you will be blameless and holy in the presence of our God and Father when our Lord Jesus comes with all his holy ones." (1 Thessalonians 3:6–13)
In this class, we take note of the delight Paul has for the Thessalonians and they have for him. What is the connection between the depth of relationships, and faith and love?
Please add your comments on this week's topic. We learn best when we learn in community.
Do you have a question about teaching the Bible? Is it theological, technical, practical? Send me your questions or suggestions. Here's the email: malcolm@malcolmcox.org.
If you'd like a copy of my free eBook on spiritual disciplines, "How God grows His people", sign up at my website: http://www.malcolmcox.org.
Please pass the link on, subscribe, leave a review.
"Worship the LORD with gladness; come before him with joyful songs." (Psalms 100:2 NIV11)
God bless, Malcolm